Pixel Vision 8: Draw
A downloadable tool for Windows, macOS, and Linux
Pixel Vision 8: Draw leverages Pixel Vision OS's sprite tools to offer artists a self-contained pixel art creation studio. Draw works around the limitations you define. Create pixel art specifically for past 8-bit systems or design your custom limitations. Draw exports PNG files you can then use in any 8-bit inspired game.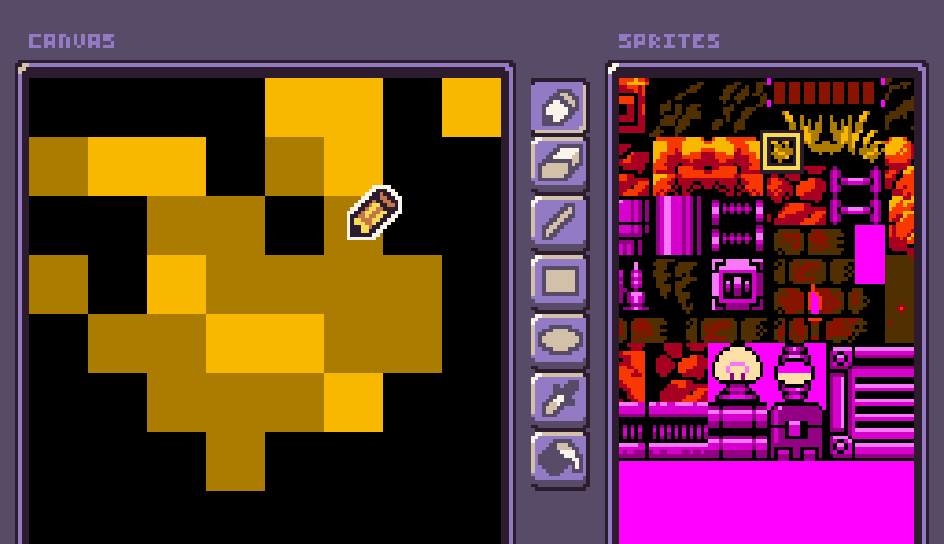 Design Your Colors
Use the Color Tool to create system colors and palettes. These are made available to Sprite Tool for creating 8-bit pixel art. The editor even supports previewing palette swapping on on sprites to emulate older 8-bit hardware color tricks.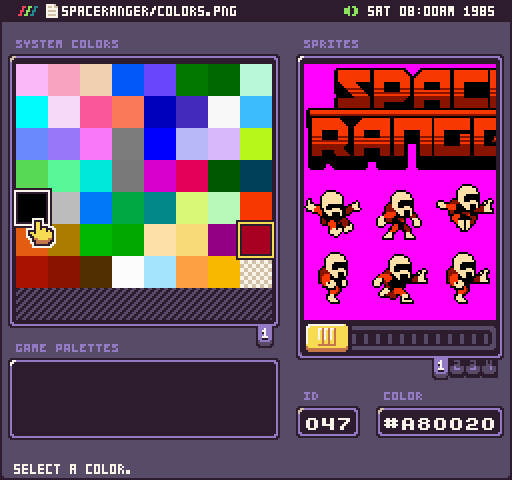 Tools For Pixel Artists
Use the same sprite creation tools that power Pixel Vision 8 games! You can define how many pages of memory you'll need, the colors per sprite and size. From there, use a pencil, eraser, line and shape tools to create your pixel art. There is an eye dropper and fill-bucket as well.
Create Sprite Fonts
Design, preview, and export 8-bit sprite fonts. You'll have access to ASCII characters 32 - 126 to get you started. You can even test out the letter spacing if you are making font character smaller than 8 x 8 pixels.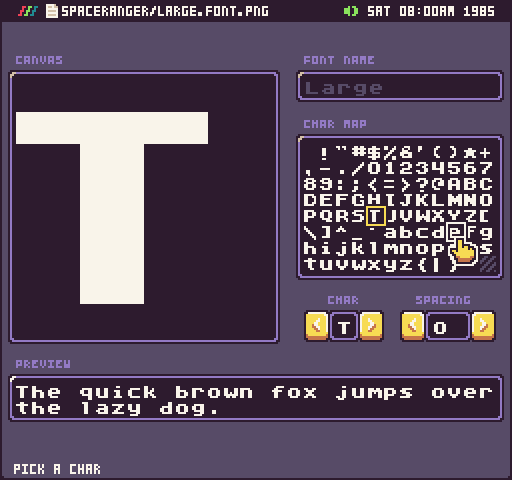 A Retro Art Studio
Pixel Vision OS which turns Pixel Vision 8 into an 8-bit computer is built-in. You'll get a dedicated workspace folder on your computer where you can access anything you create. The best part is that your work is saved as PNG files and are ready to be imported into any game project you are designing.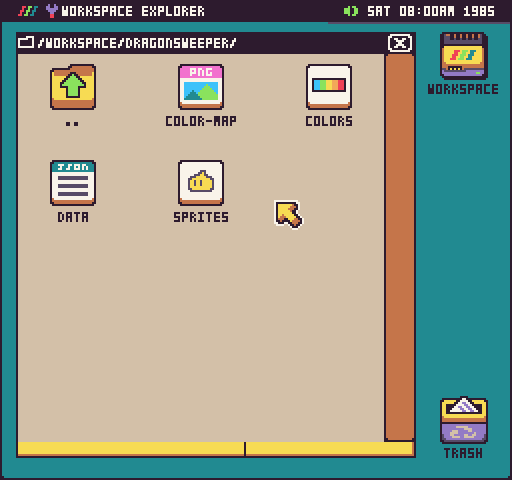 Features
Pixel Vision 8: Draw is a powerful pixel art creation studio with the following features:
Support for Mac, Windows, and Linux.
Full keyboard and mouse support.
Run in scalable window mode or fullscreen.
Use as a stand-alone art package for creating authentic 8-bit art.
Customize the hardware limitations for each project.
Automatically export your work as PNG files.
Support for mounting a Workspace folder from your computer to make sharing files between the two easier.
Includes Pixel Vision OS's color, sprite, and font editors.
Easily share your creations with others.
Dedicated Discord Server for community, help and sharing work.
Pixel Vision 8: Draw is still in development. Currently, it is offered as "early access" and may contain bugs, unexpectedly crash, or have missing/incomplete features. You'll receive free updates for the life of the project.
Release Make v0.9.1 Alpha
This marks the alpha release of Pixel Vision 8: Draw. You can now log bugs specific to Pixel Vision OS here or to the core MonoGame Runner here. There is also a dedicated Discord Server for community, help and sharing work. Below are the issues that have been addressed in this release:
Pixel Vision OS (v2.1.0)
MonoGame Runner (v0.9.1)
SDK (v1.9.0)
Join The Club
The Fantasy Console Club focuses on making retro 8-bit games with Pixel Vision 8. The club offers access to exclusive tutorials, demos, and tools as well as a free copy of Pixel Vision 8.
Purchase
In order to download this tool you must purchase it at or above the minimum price of $3.99 USD. You will get access to the following files:
Draw v0.9.1a Installer Windows
2 MB
Draw v0.9.1a Windows
4 MB